Welcome to the Westview Elementary School PTA site.  On this site you will find useful information about the PTA, our mission and our events. Keep scrolling for our Event Calendar and Facebook Feed.
Volunteer Online
SignUp Genius is the tool we are using most this year for volunteers.  Please follow our link from your computer or mobile device to see what options are available.  Each "slot" will correspond to an event, date and time.  It will tell you how many we need (ex: 6) and how many have signed up (ex: 1 of 6 slots filled).  You can sign up for as many as you want and can revisit the site as often as you want.  Remember to check back regularly.  Some events are not listed yet or have times to be determined.
Please also remember to register as a volunteer with the school district at www.bcsdvolunteers.com before registering to assist with any school function.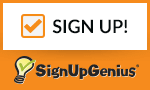 Upcoming Events
Please visit our events page for more information on past events or additional helpful links and information.
Contact Info
Westview Elementary PTA
100 Westview Blvd
Goose Creek, SC 29445
Email Us
Subscribe to our Mailing List